Regular price
Sale price
$9.99
Unit price
per
Save 0%
Sold out
Description
Sore gums are no match for the Itzy Ritzy® Chew Crew® Silicone Teether! Itzy Ritzy teethers are safe on baby's gums, and the open design makes them easy for small hands to grasp.

These teethers are made of non-toxic food grade silicone and have texture on one side to massage sore gums and provide relief to emerging teeth. The texture also helps your baby discover and explore new senses, so go ahead and chew on this!
Specs
• Material: Non-toxic food grade silicone
• Dimensions: 3.7" L x 0.6" W x 4.25" H
• Weight: 0.18 lbs
• Free of BPA, PVC, phthalates, lead and cadmium
Care Instructions
Hand wash with mild soap. Top shelf dishwasher safe.
View full details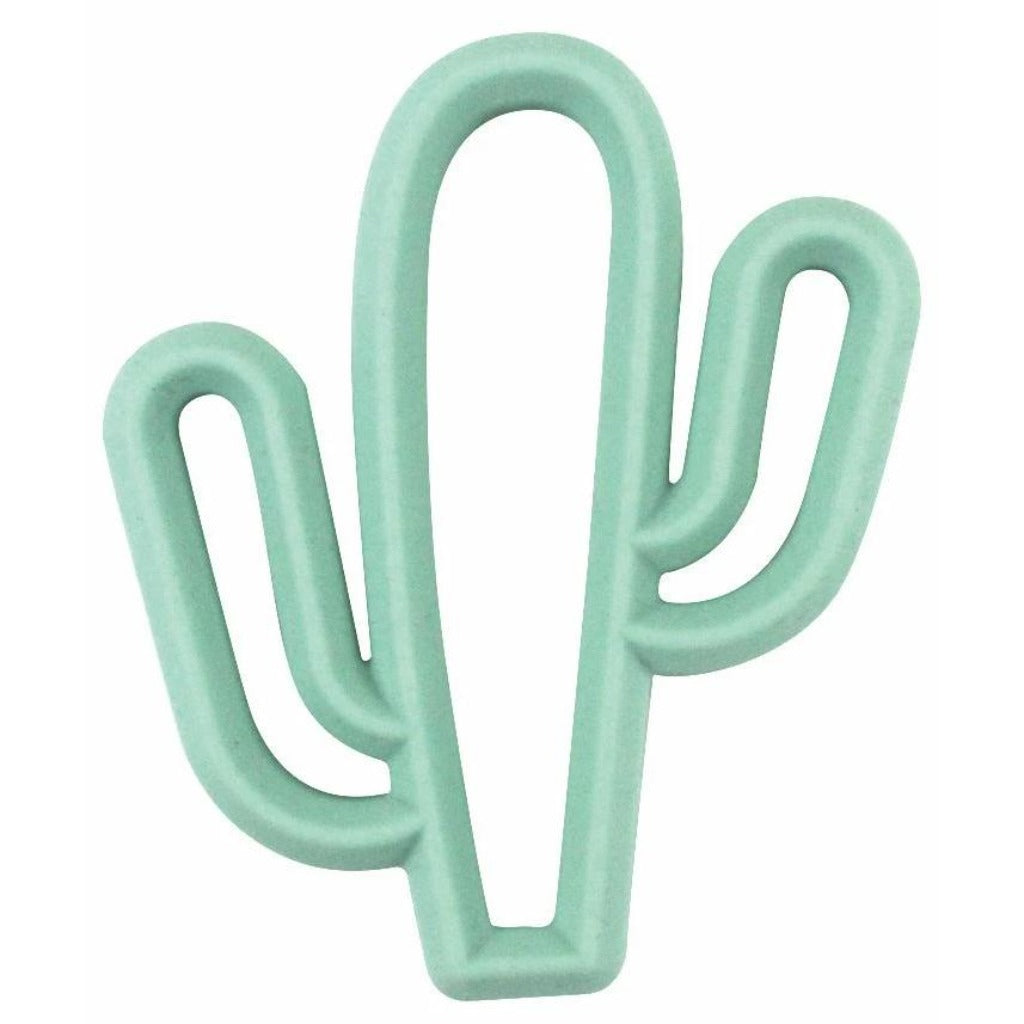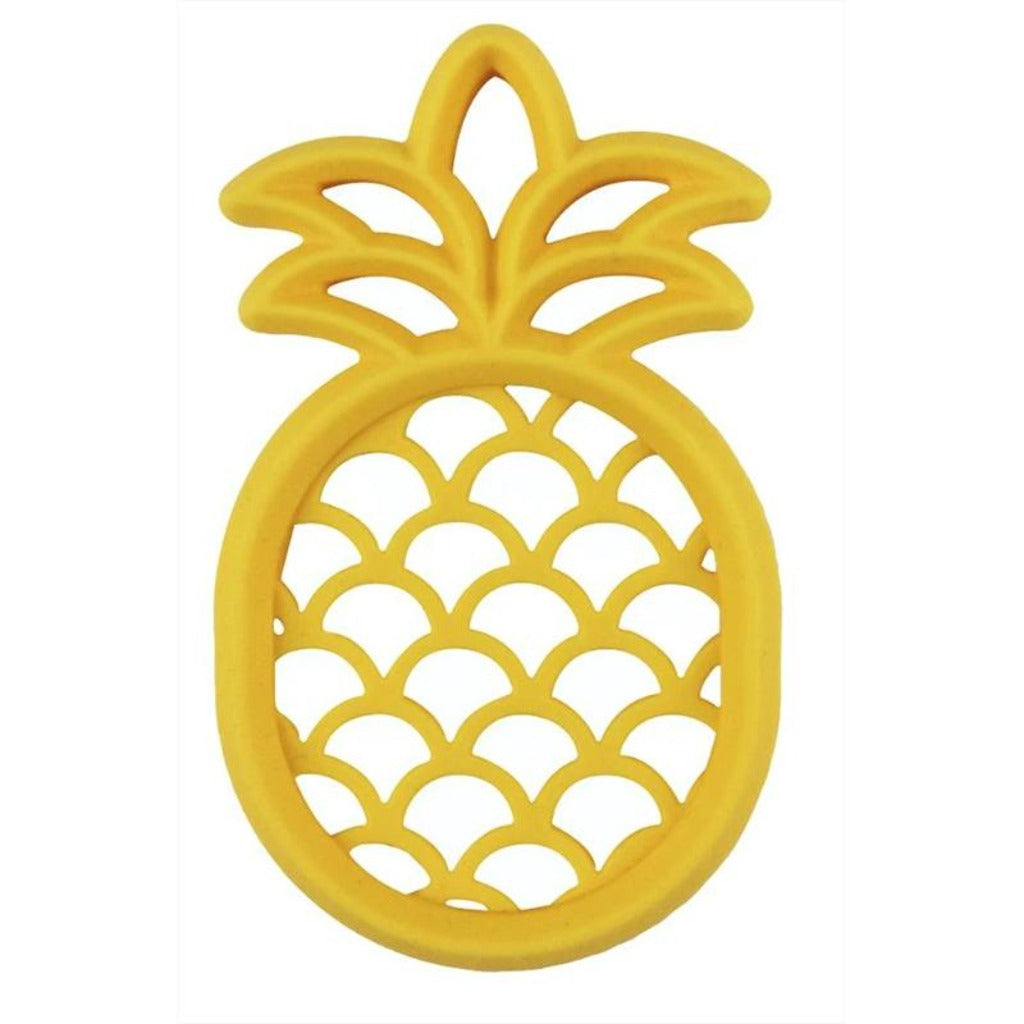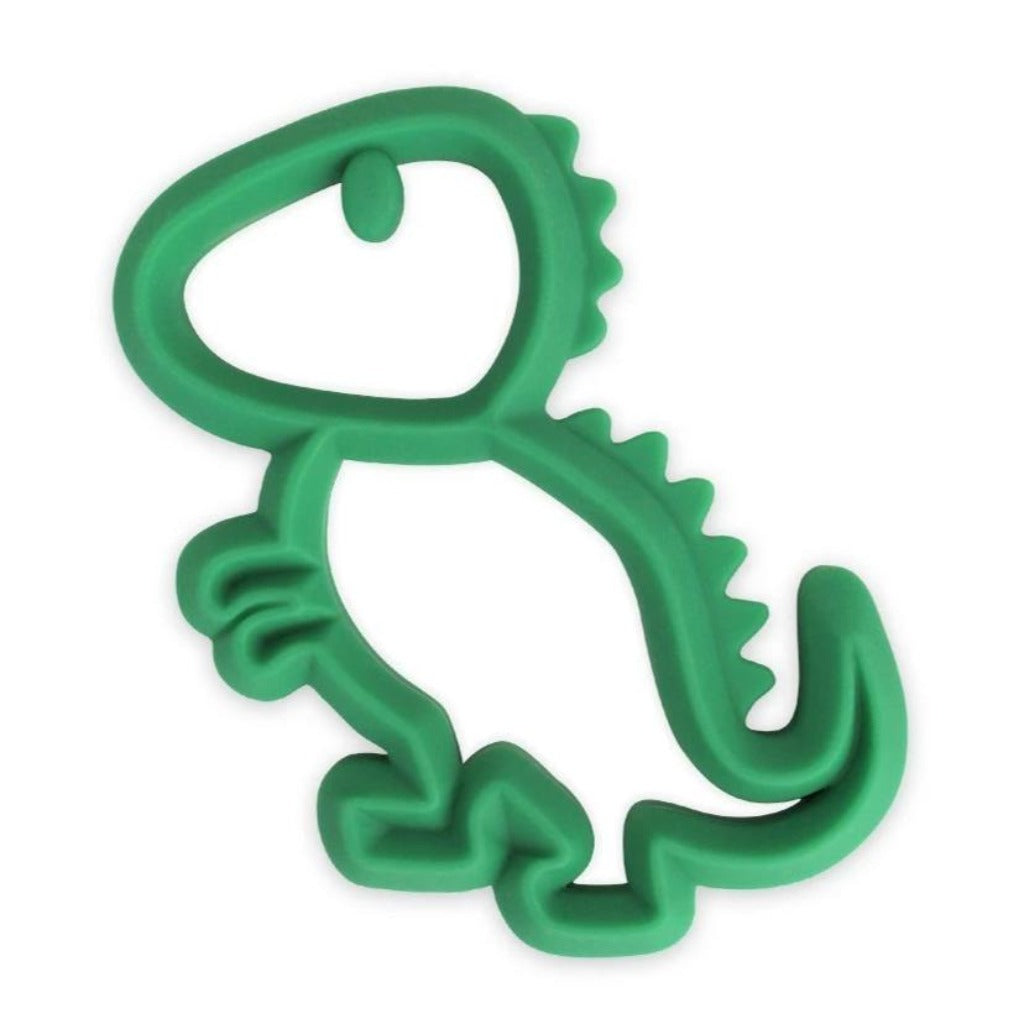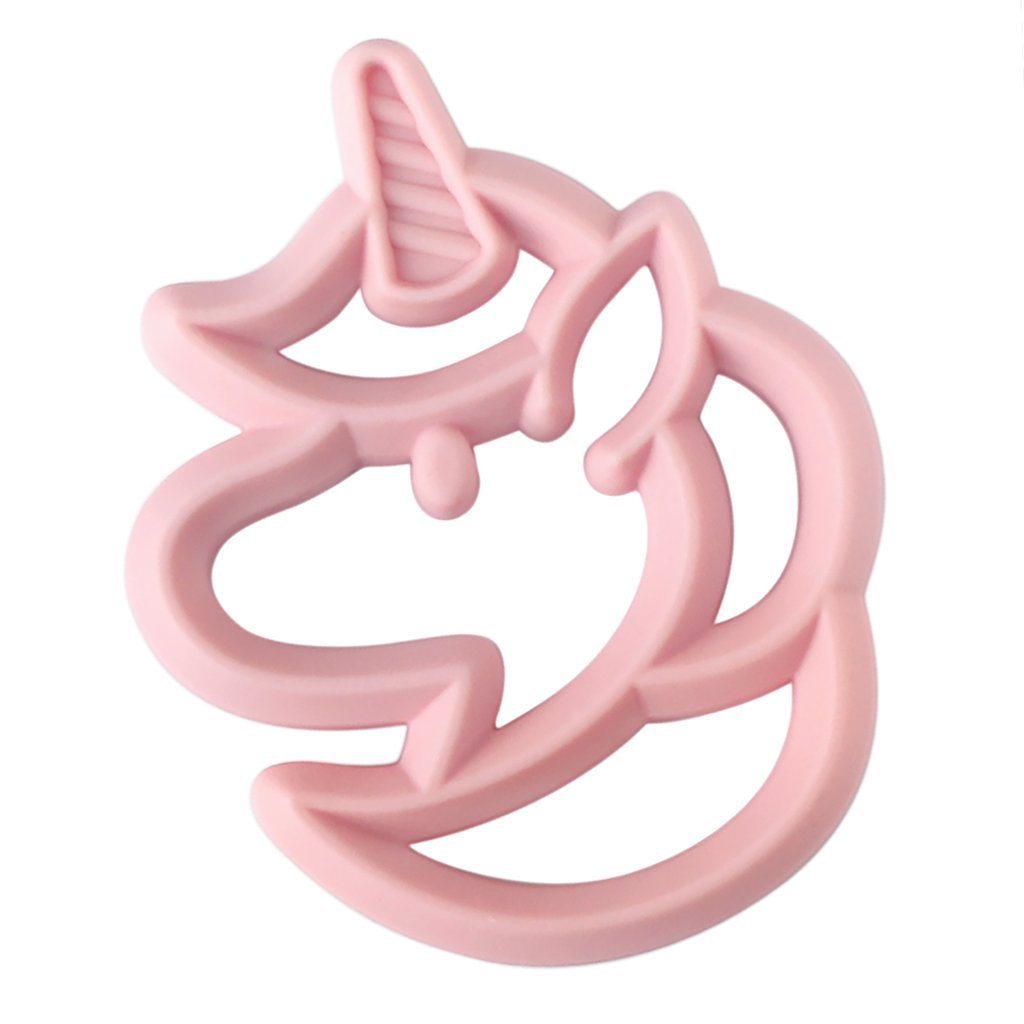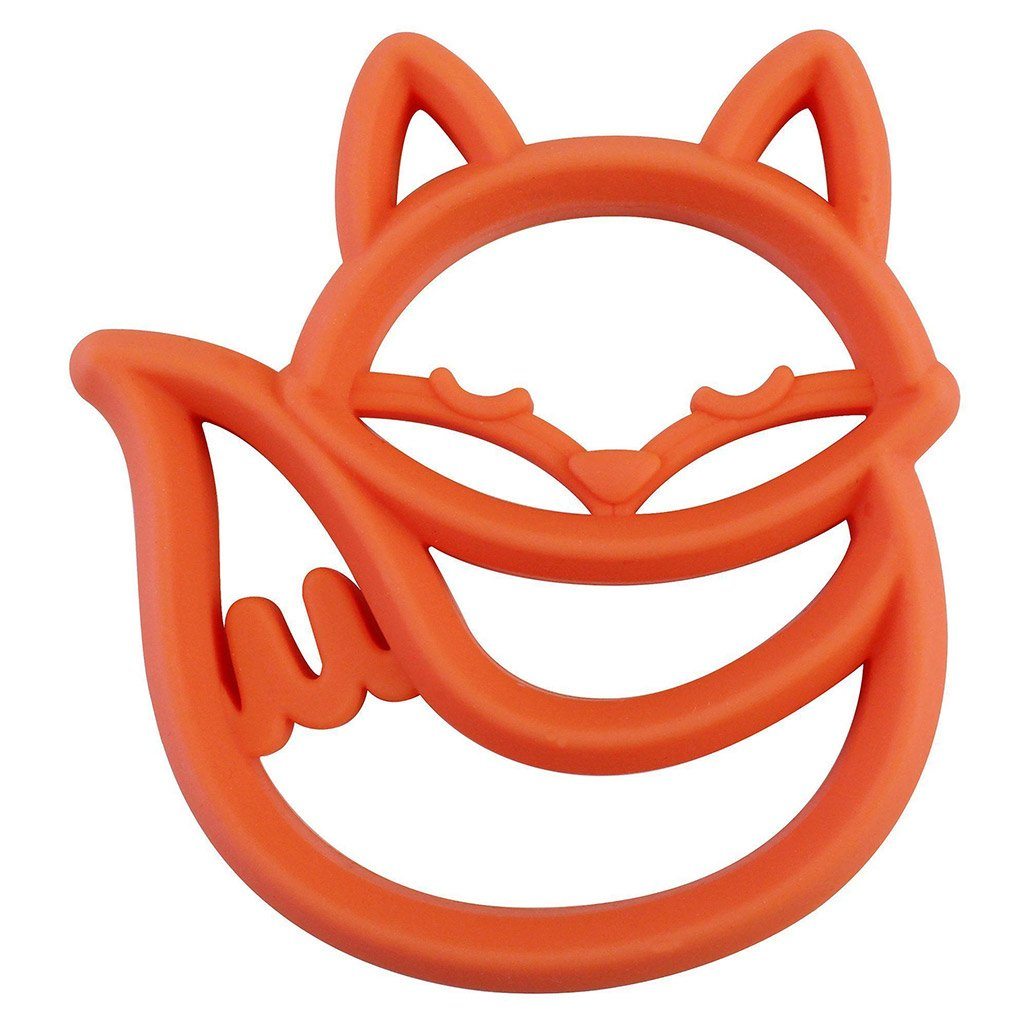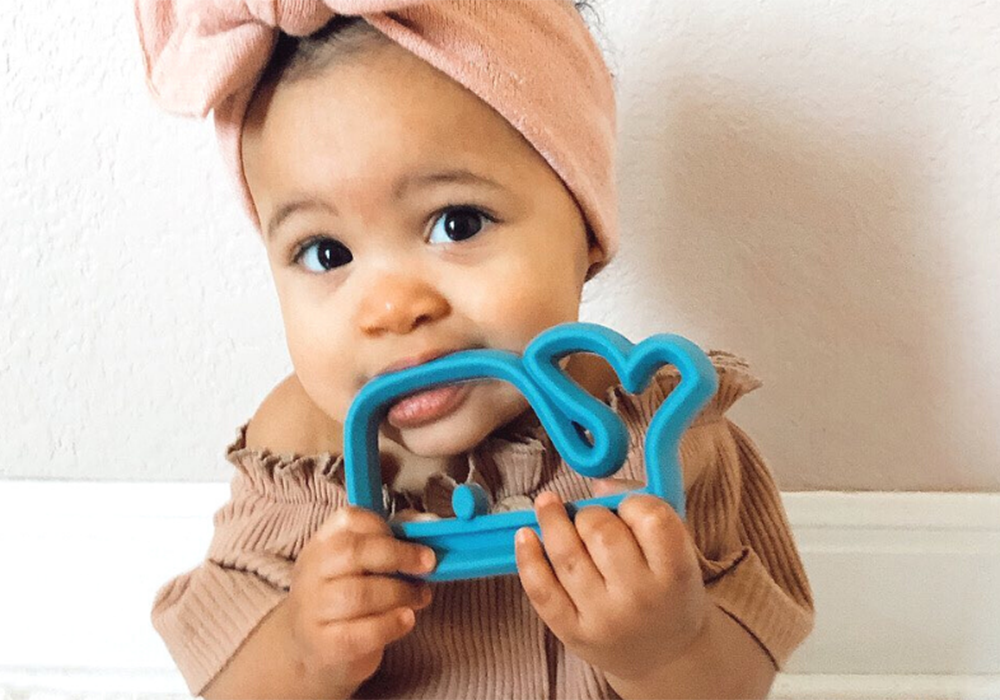 Safe for Small Gums, Easy for Small Hands
Our silicone teethers come in a variety of fun shapes and colors and provide relief from teething pain for your baby. All our teethers are made of non-toxic food grade silicone and are free of BPA, PVC, phthalates, lead and cadmium.
Faqs
What are the Benefits of Using Chew Crew™ Silicone Baby Teethers?

Using silicone baby teethers can provide a range of benefits for both babies and parents. These benefits include:

Relief from Teething Pain: Teething can be a painful experience for babies, but Chew Crew™ Silicone Teethers can provide much-needed relief to sore gums.
Sensory Exploration: The textured design of the teether helps babies explore and discover new senses, aiding in their cognitive and sensory development.
Motor Skill Development: Chew Crew™ Silicone Baby Teethers are fun and colorful that can help improve a baby's hand-eye coordination and fine motor skills, preparing them for other developmental milestones.
Easy to Hold: The open design of the teether makes it easy for small hands to grasp, improving hand-eye coordination and fine motor skills.
Suitable For Refrigerators And Dishwashers: Silicone has unique properties that make cleaning it up or keeping it clean simple. Chew Crew™ Silicone Baby Teethers are impermeable to soap or detergent, and neither can they remain on the surface. You can therefore use any cleaning methods with confidence. Silicone can be kept in the refrigerator because its components are not impacted by temperature changes; on the contrary, it is preferable to give your baby calming comfort.
What are Other Ways to Relieve Pain for Teething Babies?

Cold Fruit

A pleasant snack of chilled mashed bananas, applesauce, strawberries, melon, or other soft fruits might help ease those painful gums once you've introduced your infant to solid foods, which usually happens around 6 months.

Cold Washcloth

It doesn't get any easier than this solution if you're wondering how to soothe a teething infant! Put a clean washcloth in water, wring it out until it's barely moist, and then put it on a spotless surface in the refrigerator. When it has cooled, fold it and give it to your child to chew on to soothe their sore gums.

Cool Metal Spoon

What can you find around the house that is helpful for teething? Spoons! Take a tiny metal spoon out of the drawer in the kitchen, and place it in the refrigerator. When the spoon has cooled, gently brush your child's gums with the curved side.

Chilled Teething Toy That Isn't Gel

If you've read this list all the way through, you may have noticed a pattern: cold items. One of the most effective methods for reducing teething pain is to apply something cool (but not frozen) to your baby's gums.

You can put your baby's favorite rubber teething toy in the refrigerator. Before giving it to your child, let it cool and make sure it's clean.

Wiping The Drool

Drooling is one of the primary symptoms of teething and can result in drool rash. Soft bibs can help preserve your baby's skin and clothing, and you can use them to wipe your child's chin to keep their face clean and dry.

Cuddles

Make sure your infant receives plenty of cuddles and hugs. An infant who is teething may find that spending time cuddling with you is the greatest comfort. Choose a cozy chair, then gently rock your infant. This will provide you both some much-needed alone time for hugs and consolation in addition to some peace and quiet.

Medication For Infant Teething

Ask your baby's doctor for guidance on utilizing painkillers or infant teething medications if you're worried that none of the aforementioned remedies will be able to ease your baby's teething discomfort. 

Some parents understandably have concerns about giving their children medications like infant acetaminophen for toothaches. The ideal person to ask this question to is your child's doctor, who can advise you on the best over-the-counter medication and ensure that the right amount is utilized.

Gum Massage

One of the finest teething therapies for pain alleviation is a light gum massage. Use your fingers to gently rub your baby's gums in a circular motion after cleaning your hands. It's okay if your infant naturally begins to suck or chew on your fingers.

Warm Bath

It's not always enough to just rub the baby's gums to calm them down. Give your child a nice, tranquil bath. It can calm their body and serve as a diversion from pain.
Why are Itzy Ritzy Silicone Baby Teethers the Best Option?

Durable and Long-Lasting Material: Made from high-quality, non-toxic silicone, Itzy Ritzy teethers are designed to withstand the wear and tear of daily use and provide long-lasting relief for teething babies.

Convenient Size and Lightweight Design: Itzy Ritzy teethers are lightweight and easy to hold, making them the perfect size for small hands to grip and explore. Plus, they're easy to take on the go and can be tossed in a diaper bag or purse for on-the-spot relief.

Compatible with Pacifier Clips and Holders: Itzy Ritzy teethers come with a hole in the middle, making them compatible with most pacifier clips and holders, so you can keep them close at hand and never lose them.

Recommended by Parents and Experts: Itzy Ritzy teethers have received rave reviews from parents and experts alike for their effectiveness in providing relief for teething babies, as well as their high-quality, non-toxic materials and fun, colorful designs.
How Do Silicone Teethers Help Babies Learn?

Almost everything in a young baby's life is a new experience.They are conditioned to use their senses to the fullest extent possible by touching, feeling, and yes, even putting things in their mouths! In our collection of silicone baby teethers, we provide a variety of special characteristics that make it safe for your baby to discover new sounds, shapes, textures, and sensations.

Silicone teethers can also help your baby improve their grip strength as they're light enough to shake around, but easy to grip. They are developing their spatial awareness by wanting to grasp it when you hand it to them or when they drop it. Last but not least, letting them play around with something secure all the time will help them develop their fine motor abilities.
How Do I Clean Silicone Teething Toys?

Baby teethers frequently end up on floors, in beds, strollers, or even in the mouths of animals. Since newborns frequently put silicone teething toys in their mouths, cleanliness and safety are crucial, thus they should be cleaned as frequently as possible to maintain them sanitized and germ-free.

When you purchase a brand-new silicone teether that you are confident is safe for your baby to chew on, be sure to give it to the baby after giving it a thorough cleaning. Dishwasher safe and antibacterial silicone. The silicone teethers can be put in the dishwasher (top rack) or washed in warm, soapy water and completely rinsed.

It's a good idea to periodically deep clean and sanitize the teethers. Here are some common techniques for sanitizing and cleaning silicone teething toys.

Boiling hot water: Silicone teethers can be boiled in the same way that bottles or nipples are. Your baby's teether can be cleaned and sanitized using this time-tested technique. As silicone has high temperature resistance, using hot water won't cause the teethers to break or deform.
Sterilize Steam Bags: Steam spreads swiftly to all surfaces of teethers, and it can efficiently eliminate 99.99% of bacteria in just a few minutes. Thus, steam bags should be sterilized.
UV Sterilizers: UV light is also an efficient way to eradicate microorganisms from product surfaces. But, it only has the ability to destroy germs on surfaces where it can shine directly, and it takes significantly longer.
White Vinegar and Water: Mix the white vinegar and water in a spray bottle, spray on teething toys then clean the toys with a cloth and wipe. Or immerse the teethers in the mixture for a while.
Baking-Soda and Water: Baking soda and water are generally safe options for sanitizing and cleaning your baby's teether.
Are silicone teethers safe?

Yes, they are considered to be safe. Although wood or plastic can also be used, silicone teethers are the most common type today. Any plastic teethers containing BPA, PVC, or phthalates should be avoided. Because these potentially dangerous substances could leak out when newborns chew on teethers, plastic teethers are no longer recommended. 

Silicone, a synthetic elastomer with characteristics of both plastic and rubber, is constantly confused with plastic. Many individuals mistakenly believe that silicone teethers will hurt infants. While having some similarities to conventional plastic, silicone is different from plastic and is significantly safer overall.
Are silicone teethers good for babies?

Yes, silicone teethers are beneficial to babies because they provide a safe and soft surface for them to chew on while teething. Silicone teethers are long-lasting, easy to clean, and can be chilled to soothe a baby's sore gums.
When can babies use a silicone teether? 

Most infants begin teething between the ages of 4-6 months, making this an excellent time to introduce teethers. The timing of your baby's first tooth erupting is greatly influenced by genetics, and your child may begin teething earlier or later than this window.

Typically, the four upper front teeth come in second after the two bottom front teeth. By the time they are around three, your child should have all of their baby teeth.
Are silicone teethers bad? 

No, silicone teethers are not bad. They are a safe and effective method of providing relief to babies who are teething. However, it is critical to ensure that the teether contains no harmful chemicals or toxins, so only buy teethers from reputable manufacturers.
Is wood or silicone better for teething? 

Both wood and silicone can be effective teething aids, but the choice is ultimately personal. Some parents prefer wood's natural and organic feel, while others prefer silicone's soft and pliable texture. Make sure the material you choose is safe and free of harmful chemicals.
How long do silicone teethers last?

You should always check teethers before using them, just as you should with any toy or item in your baby's vicinity. We advise you to get rid of it as soon as you notice any damage. Your silicone teether has no expiration date as long as it is still in good condition. 

If properly cared for, wood and silicone are fairly robust and can last for many years. Damage to watch out for includes frayed or damaged strings, wood, or silicone. Despite the fact that our goods are quite sturdy, we nonetheless advise you to regularly examine any toys your baby plays with to ensure their safety.
Why do babies use teethers?

Babies enjoy chewing on teether toys for a variety of additional reasons. When their teeth emerge, it isn't usually for relief. 

The most critical developmental stages are when a newborn encounters speaking and eating for the first time. As infants chatter throughout development, the tongue movement caused by mouthing helps build speech sounds, becoming more conscious! Because of this, you should keep a teething toy close by at all times. Doing so will guarantee that all of these significant milestones are reached on schedule.

Babies love to chew on everything, especially while they are teething, so parents shouldn't be alarmed if their infants nibble on blankets, favorite stuffed animals, keys, their fingers, the edges of baby books, or even their own fingers. There are even necklaces and bracelets designed for parents to wear that are a safe alternative for their children to teethe on because babies love to chew and teethe on anything they can get their hands on.
What is a silicone teether made of?

A silicone teether is a general phrase that can be used to describe a variety of teething items. These silicone teethers are produced entirely from FDA-approved silicone. Several silicone kitchenware items, such as food storage containers, spatulas, cutlery, etc., are made of the same substance. It is a fantastic teething product and fully safe and non-toxic.
Is silicone safer than plastic for babies? 

Silicone is generally thought to be safer for babies than plastic. Silicone is a non-toxic, hypoallergenic material free of harmful chemicals such as BPA, phthalates, and PVC. It's also more durable and easier to clean than plastic, making it a popular material for baby items such as teethers and pacifiers.
How do silicone teethers soothe babies?

Similar to when we hurt ourselves, applying pressure to a tender spot might ease some of the pain. They can ease some of their discomfort by chewing and applying pressure to their gums. Since the cold sensation lessens part of the irritation, our teethers are also excellent at calming baby gums.